---
This website and Airport Speedway Facebook page are the only official sites to be used for information purposes. Please also be aware that there are other Facebook groups/sites are using our name in any combination is unauthorized, because of this we take no responsibility nor are we associated with these unauthorized sites.
If you are identified making written comments detrimental to the Club or track on the internet, i.e. Social Media, you will be subject to disciplinary action.
---
---
April 21, 2018 Point Race 2 Results

Airport Speedway welcomed Cub Scout Pack 960 from Delaware on this beautiful night. I got the chance to talk to the leaders and kids throughout the night. The young men ranged in grade level Kindergarten to fifth grade. I let them watch warmups, heats and the chance to go back in the pits during intermission to let them wrap their heads around the action before asking some questions. Before our first feature event of the night which was the 250 Sportsman class, the boys had the chance to walk out on the track and introduce themselves in front of the spectators... And then the questions and the action started...

Carson's favorite part of the night thus far was "watching the cars go by." Brody was rooting for the 41 of Ed Mort to win and likes "how they turn and get through the corners." (As a past "favorite part" of my night as a child growing up, I knew this had to be an answer from someone. As a racer now, it is no longer my "favorite part.") Austin was rooting for the "Superman" number 18 car of Richard Byron to cross the checkered flags first, and his favorite thing of the night so far was the "accidents." They always make a kids night. Jacob was also rooting for Richard Byron, and Billy was going for the car with no wing, the 10L of Liam Mulherin. Johnny Trendler and last week's winner Andrew Locuson brought the field to the green flag. Locuson jumped out to an early lead and for most of the race had no challenges. Rookie Deana Cogdill, who started in 12th position, made her way up to 6th by lap three with the wingless Liam Mulherin behind her. Jonathan John and rookie Shea Wills traded positions for third for many laps as John claims the spot before heading to the infield. Cogdill and Jacob Byron battled for fourth; however, Cogdill hit a rut pushing high and lost ground. With four to go, Locuson was approaching a lap car who slowed in turn two. Locuson attempted to get around him but couldn't make it and ripped his right side panel of his wing almost off thus being his biggest challenge of the race. Shea Wills makes a last lap pass to secure the runner up spot. Andrew Locuson, Shea Wills, Johnny Trendler, Jacob Bryon, and Deana Cogdill were your top five.

As the infamous wingless 600s were lining up, I went back down to talk to Pack 960 again. Patrick enjoyed going back to the pits during intermission and climbing in a few of the cars. He was rooting for the black and green number 22 of Lee Reinhardt. Ben liked being able to walk on the racetrack and was cheering for Gary Bozowski in the 97G. Brody was cheering for the 10 of Wayne Scott. Lavar Scott and Tyler Tank rolled the four cylinders to the green flag. L. Scott grabbed the lead for the first few laps before Chris Fenimore took over taking the high line on a restart on lap nine. Sam Locuson put the pressure on second taking that position and then challenging the leader but just didn't have enough to get the lead. The action continued mid back with the Uncle/Nephew duo of Wayne Scott, Jr. and Wayne Scott in a heated battled for the sixth position. On the last lap, a yellow flew setting up a green/white/checkered finish as the top five were still battling hard for one more lap. As the checkered flew, Chris Fenimore,

Sam Locuson, Lavar Scott, Gary Bozowski, and Tyler Tank were the five to cross first.

As it got later in the night, the Cub Scout's either got hungry and went to get some delicious food from the Conover Concession stand or got tired because I was only able to talk with two before this race. Austin said he would like to see the rookie driver in the 75, Dale Wagner, win as Luke went with the car that was in victory lane earlier in the night, the 21 of Chris Locuson. Chris Locuson and Anthony Chvostal paced the 270 class to the green. After coming out with a new top on, C. Locuson took the lead and never looked back and soon hit lap traffic in the first five laps. Chvostal saved himself from almost spinning but managed to hold on to second place for majority of the race as he struggled through a rut during the feature which would take away any ground he would gain on restarts to get to the leader. Billy Gray and Rookie Thomas Rinck had a nice battle going for third position, but Rinck got tangled with a lap car. On restart lap 19, Gray tries the inside of Chvostal but couldn't make it stick though he didn't give up as they continued to race each other hard. Gray made a last lap pass to take the runner up spot. Chris. Locuson, Billy Gray, Anthony Chvostal, Jonathan John, and Joe Bednarek were your top five.

The Jr 125 class came on the track and most of these kids are close in age to the kids of Cub Scout Pack 960 which I think they found pretty cool. Luke and Ben both thought the young lady of the 18, Sarah Napora, would make her way to victory lane. Patrick went with the Rookie of Landyn Pollard. Sarah Napora and Juel Acosta lead the rest of the field to start the race. Napora found herself in lap traffic with just three laps on the board. Landyn Pollard took the low line under Acosta for second as the two of them traded positions for multiple laps. On a restart, the leaders got tangled causing Acosta to bring a yellow out. Rookie Wayne Scott, III, was running a solid third with another rookie, Devon Dvorak who started ninth behind him. Napora never let lap traffic slow her down as she had a half track lead over her closest competitor. As the last checkered flew of the night, Sarah Napora, Landyn Pollard, Devon Dvorak, Wayne Scott III, and Hadyn Mulherin rounded out the top five.

At the end of each feature, Cub Scout Pack 960 presented the winners with a plaque they made, got a picture in victory lane, and even got a few high fives. Airport Speedway would like to thank you all for coming out and hope you enjoyed yourselves. I, personally, would like to thank Bruce and Roger for taking the time out to talk to me and give me a little knowledge of what Cub Scout Pack 960 is about. Also, thank you to all the young men who let me question them throughout the night and taking the time to make something special for our feature winners. To the drivers who made the kid's night by letting them in their car, giving an autograph, and taking the time out to greet them, Thank You. Cub Scout Pack 960 we hope to see you back again.

Write up by Dana Watkins

250 Sportsman Feature Finish

1. Andrew Locuson, 2. Shea Wills, 3. Johnny Trendler, 4. Jacob Byron, 5. Deana Cogdill, 6. Liam Mulherin, 7. Richard Byron, 8. Matt Andrews, 9. Robert Simmerman, 10. Jonathan John, 11. Tyler Tank, 12. Ed Mort, DNS: Brittni Hopkins
250 Sportsman Feature Winner
Andrew Locuson
600cc Wingless Feature Finish
1. Christopher Fenimore, 2. Sam Locuson III, 3. Lavar Scott, 4. Gary Bozowski, 5. Tyler Tank, 6. Wayne Scott, 7. Kyle Melvin, 8. Wayne Scott Jr. 9. Donald Bouchelle, 10. Lee Reinhardt, 11. Tyler Lindsay, 12. Jason Muldowney, DNS: Matthew Pfahler, Robert Miles, Doug Snyder
600cc Wingless Feature Winner
Christopher Fenimore
270 Open Feature Finish
1. Christopher Locuson, 2. Bill Gray, 3. AJ Chvostal, 4. Jonathan John, 5. Joe Bednarek, 6. Tom Gaylor, 7. George Summers, 8. Dale Wagner, 9.Ron Ford, 10. Thomas Rinck, DNS Bill Gunning, Corey Waegel, Ed Tyers
270 Open Feature Winner
Christopher Locuson
125cc Junior Feature Finish
1. Sarah Napora, 2. Landyn Pollard, 3. Devon Dvorak, 4. Wayne Scott III, 5. Hadyn Mulherin, 6. Barbara Eichorn, 7.Juel Acosta, 8. Jonathan Dougherty, 9. Trevor Waegel. DNS Olivia Haworth
125cc Junior Feature Winner
Sarah Napora
---
April
28 Point Race - 125cc Junior Class Spotlight Race
May
5 Point Race
12 Point Race
16 Track Open Practice
19 Point Race - 250 Sportsman Spotlight Race
Drivers - Please remember to bring your charged Transponders & Raceivers (channel 000)
---
T-Shirts Sponsorships
Racers Auxiliary is in the process of ordering new t-shirts. As in the past they are selling spots on the back of the t-shirts.
Business card spot for the t-shirts is $100.00
Racing team/Individual 2 lines spot is $50.00
Anyone that would like more info or to put their business or racing team name on the back of the t-shirt, please contact Jeff Tank at the track or phone (302) 420–2842.
---
A Special Thank You to the following Businesses for their contributions and support of 2018 Airport Speedway Race Season.
Betts Garage
Cassidy Painting
Christiana Excavating
Highland Construction
Holland Mulch
Iron Hill Fencing
Power Tech
Scott's Auto
Tire Sales & Service
---
Membership Application Form
Memberships will be taken starting January 1st. Just click on the MEMBERSHIP button at the left and 
follow instructions. You will be able to fill out the form on your computer and print it out.
You will, however, still need to sign the form and send it to the Club P.O. Box along
Any membership renewal or fee not paid by April 15th will be charged an additional $5.00 late fee.
If you are under the age of 18, you must send in a copy of your birth certificate or 
driver's license as proof of age.

 This is a BMMRC requirement per the BMMRC By-Laws 

Racing Rules and Regulations.
Payable with annual dues.

  

This fee is for Club car registration and must be paid by each Club member registering a car.

 
All registered cars must have been inspected and competed or attempted to compete in at least three (3) point races during the registration year in order to retain its registered Club number for the following year.
All car number re-registrations must be completed before April 1st to assure retention 

of a previously registered 
Pit spots will be taken starting January 1st. A car owner/driver may prepay the yearly pit space fee in order to 
maintain the same pit space

 from year to year.

  

The assigned car must have been signed in to at least 50% 
of the scheduled previous year's races and have fee paid prior to April 1st. Questions or availability contact Barbara Sparks
If you are a visiting driver planning on racing at Airport Speedway this season, you must fill out the form for the 1099-Misc.
These are for cars not registered with B.M.M.R.C .  All drivers are to use the visiting driver form if you are not the car owner, 
drivers that have a ride with a car owner use the 1099 Car Owner form ALSO.  Please complete the on-line form and print it out, 
then take the form to the Sign-in window the first time you plan on racing. 
If you are under the age of 18, you must bring a copy of your birth certificate or drivers license as proof of age.  This is a
BMMRC requirement per the BMMRC By-Laws Racing Rules and Regulations.
---
2018 Rule Change Highlights
Article VII Section 3 Page 7
Changed to:
Except for safety, all rules adopted, approved by the Board of Directors will be printed in this document.
Article VII Section 3 Page 7
Add:
Section 4. The Board of Directors may change a prior written Racing Rule that has been deemed detrimental to the organization, given reasonable notice. Reasonable notice will be defined as the proposed rule change must be read at two consecutive Board of Directors monthly meetings.
Section One Item 2 Page 8
Change to:
Drivers of a micro midget must be at least 10 years of age. Those drivers' ages 10 turning 14 with no driving experience will be in the Junior 125cc class.
Ages 12 thru 13 turning 14 with 2 years Junior 125cc driving experience may move up into 250 Sportsman or 270 Open classes.
Ages 14 -15 with 2 full race seasons may move up to 600cc wingless class.
Section One Item 3 Page 8
Remove:
No one under age 10 will be allowed in the pit area.
Section Two Item 6 Page 10
Change to:
250 Sportsman, 250/270 Open, 600 Wingless, there shall be a minimum of 4 cars in any race. 125cc Junior, there shall be a minimum of 2 cars in a race. A maximum of 10 cars in Heat Races.
Section Nine Table C Page 27
Change 600cc Wingless Weight To:
4-Stroke Wingless 775 lbs
Section Twelve Page 31
Change to:
1) Terms and conditions
a) If a change or modification to the stock engine or its parts is not included in these rules then the modification is considered legal.
b) The word "Stock" means unmodified factory original parts or components.
2) Overall Engine
a) No limited production race motors allowed. Must be a production motorcycle engine, 4 cylinders, 4 stroke
b) No titanium anywhere in or on the engine, unless it comes stock form manufacturer of engine on the production bike or used as bolts in aftermarket rods.
c) Must have engine, clutch, and transmission all in one unit
d) Must be Chain Drive
3) Bore and stroke
a) 600cc Maximum displacement for an engine model that was new in 2006 or newer. Older engines maximum displacement is 637cc. Engine model is defined as a manufacturer redesign of overall engine. See Specification list.
b) No strokers or de-stroked engines
4) Head and cams
a) NO PORTING or deporting of intake or exhaust runners.
i) Valve jobs, valve grinding, valve seating, valve seal modification and valve seat cutting are allowed.
ii) Valve seat inserts may be reworked or replaced with any seat of original dimensions. Any dimensional thickness of the stock inserts may not be increased. Valve seats can be ground with multiple angles. Blending of the valve seat into the head is permitted but cannot extend more than ¼" into the aluminum head measured from where the seat meets the head.
b) OEM Head only.
c) Cam may not have a higher lift than the stock factory cam. (duration is open)
d) Valves cannot be larger in diameter than factory stock valves.
5) Bottom End
a) No machining to remove weight from the crank (balancing of crank is ok) (no after-market cranks) (no lightweight cranks) No polishing or coatings of any kind
b) No aluminum connecting rods.
c) No dry sump systems are allowed unless it comes from the motorcycle manufacturer as original equipment.
6) Clutch/Transmission
a) No removal of clutch.
b) Clutch must remain operational
c) No modification to the stock transmission gears, no close-ratio gears or nonstandard gear-ratios. All gears must remain in transmission, no removing any gears. No polishing or coatings of any kind
7) Ignition
a) No aftermarket ECU's, stock appearing ECU only. ECU must be a production ECU that was originally supplied by the same manufacturer as the engine. Racing ECU's may be used, as long as they were originally supplied by the same manufacturer as the engine. Ex: Honda motorcycle engines must run ECU's that were supplied by Honda on their motorcycle engines. Re-flashing of ECU and factory race ECU's are allowed. Rev limit for all 600cc (nothing larger than 600cc) engines is 16,100 rpms. Rev limit for all 636cc engines is 14, 800 rpms. U6SA specified Rev Limit must remain intact at all times (no switched or gear specific limiters). If a computer is hooked up to check the ECU it must be set to U6SA specified rpm's, no tolerance. See specifications list for RPM limits.
b) All cars must have the PA standard connector for the track to check engine rpm rev limit. These are available from the chassis manufactures and engine builders, and at the track. All cars must leave intact the rpm wire coming from the ECU.
c) No aftermarket coils
d) No gear position sensor may be used. The sensor may be in place on the engine, but cannot have any wires connected to it. Gear position wire from ECU may not be switchable.
e) No traction control device.
f) No more than one ECU box present in or on car.
g) A 100 rpm over rev tolerance for the purpose of tech inspection is acceptable. (Note: this does not mean you can turn up the rpms in any ECU by any amount)
h) Switchable wires for changing ignition maps, fuel maps, or rev limits must be contained and secured in the wiring harness. (the wires must be taped up, not visible, and unable to be switched in any way)
8) Air Induction system
a) No mechanically forced induction (turbo charging, supercharging)
b) Any carburetors may be used on any engine, regardless of year of engine.
i) Note: Switching to carburetors on engines that came with fuel injection usually increases the rev limiter due to the removal of the injectors as the ECU cuts fuel to limit rpm's before it cuts the ignition. A re-flash of the ECU will be required if using carburetors in order to comply with the rev limit rule 7. a)
c) If the engine did not come from the factory with fuel injection, fuel injection may not be used.
9) Exhaust
a) A muffler must be used with the exhaust system that will keep noise levels within individual track limits.
10) Charging system
a) No removing the charging system, it must remain in complete working order, no factory racing charging systems.
11) Self-Starting
a) The engine must self-start at the beginning of the event. If it does not self-start, the car may be pushed off and must start at the rear of the event as the penalty.
12) Fuel
a) No fuels other than alcohol, gasoline, and/or top lube. Nonflammable top lube only, no exotic fuel additives, no oxidizers, no fuel enhancer top lube.
b) Fuel tanks must contain a bladder. A fuel tank with a bladder is further defined as a plastic outer shell with a rubber inner container.
13) Minimum weight
Minimum weight at all times is 775 pounds wingless, car and driver. If weight is added it must be firmly bolted in place.
---
Rained Out
Airport Speedway uses RainedOut and delivers alerts when needed directly to your mobile phone as SMS text messages or email. If you would like to be notified by SMS or email on events or cancellations, click Rained Out and follow the instructions to sign up.
---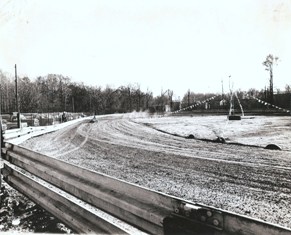 Remember When Slideshow
Remember When Part II Slideshow