---
---
ATTENTION 600CC WINGLESS DRIVERS - $500 Guaranteed to Win for the Next 2 weeks!!
A BIG Thank you to Performance Elevator for adding the extra bonus!
---
Upcoming Events
September
21 - Point Race - Members Memorial
28 - Point Race - Starting 1 hour earlier - Warm-ups @ 5pm, Heats @ 6pm

Pumpkin Race - Trick or Treating in Pits - Costume Contest

Reminder for Drivers: bring plenty of candy for kids who will be trick or treating through the pits.

Picture design credit: Jeff Johnston

November

1 - Practice - 6-9 pm Get ready for the Bullring Battle

2 - Open Show - 600cc Wingless 100 Lap Battle at the Bullring

3 - Rain Date

Want to Get Involved?

We are looking for Sponsorship for our Open Show 600cc Wingless 100 Lapper scheduled for November 2, 2019.. If you are interested in being a sponsor for this show please contact any BMMRC Board member to show your support.

We invite you to join us in this up coming race and be part of all the excitement.

We hope you would take advantage of this opportunity to advertise your product at

Airport Speedway.

Feel free to download your copy of our Sponsorship/Advertisement form today!
---
Airport Speedway September 14, 2019 Point Race 15 Results
600cc Wingless Feature Finish
1. Jimmy Glenn, 2. PJ Williams, 3. Scottie Smith, 4. Carl Locuson, 5. Richie Keller, 6. Amanda Onimus
7. Chris Fenimore, 8. Eddie Mort, 9. Geordan Marrero, 10. Lou Cicconi, 11. Mark Sokol, 12. Dave Nelson, 13. Patrick Mitsdarfer, 14. Kyle Melvin, 15. Nathan Smith, 16. Jermaine Godshall, 17. Brett Conkling, 18. Ryan Stangle, 19. Lavar Scott, 20. Keith Blumenstein
DNQ Robert Miles, Matthew Pfahler, Donald Bouchelle, Dustin Tyler
270 Feature Finish
1. Cameron Bellinger, 2. Tommy Rinck, 3. Jonathan John, 4. Billy Murphy, 5. AJ Chvostal, 6. Richie Keller, 7. Chris Locuson, 8. Sarah Napora, 9. Billy Gray, 10. James Cubbage, DNS Brent Shearer
125cc Junior Feature Finish

1. Hadyn Mulherin, 2. Trevor Waegel, 3. Dominic Foster, 4. Paige Hornberger, 5. Will Watson,

6. Kyra Pierce, 7. Olivia Haworth, 8. Dominic Pomponi, DNS Jameson Hiles
250 Sportsman Feature Finish

1. Andrew Locuson, 2. Cameron Bellinger, 3. Ava Bellinger, 4. Devon Dvorak, 5. Matt Andrews,

6. Daniel Visalli, 7. Liam Mulherin, 8. Robert Pierce IV, 9. Ron Ford, 10. Donald Bouchelle
Photographs Courtesy of: Eric Storch Photography
---
October 9, 2019 BMMRC Club Meeting/Elections @ Flying J @ 7:30pm
Nominees are:
President: Angelo Mercado
Vice President:
Board of Directors: (Vote for 3)
Matthew Andrews
Joseph Smith
Dana Watkins
Note: No new memberships will be accepted until January 1, 2020
---

2019 Awards Banquet
Saturday November 9, 2019
6:00pm - 11:00pm
Dinner • Awards • Music
Hockessin Memorial Hall
1125 Old Lancaster Pike
Hockessin, DE
$40.00 per person
See Sandy at Sign in Booth for tickets or to reserve a table (must be at least 8 or 10 max)!!
Chinese Auction
At the Awards Banquet there will be a Chinese Auction, Tickets will be on sale at the Banquet to be placed in containers of your choosing for chances to win items. Everyone is asked to bring an item to be placed on the Auction table. It does not have to be race related either. If you would like to give an item but will not be able to attend, feel free to bring it to a club meeting or give it someone that will attend. Thank you!!
You must purchase a ticket and attend the Banquet to receive any awards.
---
---

Effective Immediately: From our Safety Crew - New Safety requirement for all safety belts: Safety belts, lap, shoulder, and anti-submarine belts must not be older than 2 years.
---
---
Rained Out
Airport Speedway uses RainedOut and delivers alerts when needed directly to your mobile phone as SMS text messages or email. If you would like to be notified by SMS or email on events or cancellations, click Rained Out and follow the instructions to sign up.
---
Membership Application Form
Memberships will be taken starting January 1st. Just click on the MEMBERSHIP button at the left and 
follow instructions. You will be able to fill out the form on your computer and print it out.
You will, however, still need to sign the form and send it to the Club P.O. Box along
Any membership renewal or fee not paid by April 15th will be charged an additional $5.00 late fee.
If you are under the age of 18, you must send in a copy of your birth certificate or 
driver's license as proof of age.

 This is a BMMRC requirement per the BMMRC By-Laws 

Racing Rules and Regulations.
Reminder to Individual Lifetime Members: If you are planning on being a driver, you must pay the drivers upgrade fee of $10.00.
Payable with annual dues.

  

This fee is for Club car registration and must be paid by each Club member registering a car.

 
All registered cars must have been inspected and competed or attempted to compete in at least three (3) point races during the registration year in order to retain its registered Club number for the following year.
All car number re-registrations must be completed before April 1st to assure retention 

of a previously registered 
Drivers, or an alternate, must perform work of at least ten (10) cumulative hours prior to the first scheduled season Point Race
in order to be eligible for any awarded points. Work detail credit goes to the driver. The driver has the option of performing
the work or paying a fee of $200 in lieu of work prior to the first scheduled season Point Race.
Pit spots will be taken starting January 1st. A car owner/driver may prepay the yearly pit space fee in order to 
maintain the same pit space

 from year to year.

  

The assigned car must have been signed in to at least 50% 
of the scheduled previous year's races and have fee paid prior to April 1st. Questions or availability contact Barbara Sparks
Anyone with a push vehicle i.e. 4 wheeler, golf cart at the Speedway must pay a fee of $25.00 yearly.  A sticker will be placed on the push vehicle
as proof of being registered.  See Sandy at sign-in booth or any Safety inspector at the track to fill the form out and receive the sticker.
Must be at least 16 years old to drive them in the pits.
If you are a visiting driver planning on racing at Airport Speedway this season, you must fill out the form for the 1099-Misc.
These are for cars not registered with B.M.M.R.C .  All drivers are to use the visiting driver form if you are not the car owner, 
drivers that have a ride with a car owner use the 1099 Car Owner form ALSO.  Please complete the on-line form and print it out, 
then take the form to the Sign-in window the first time you plan on racing. 
If you are under the age of 18, you must bring a copy of your birth certificate or drivers license as proof of age.  This is a
BMMRC requirement per the BMMRC By-Laws Racing Rules and Regulations.
---
2019 Rule Change Highlights
Article III Section 3C Page: 2
Change Work Detail Fee to:
$200 in lieu of work
Section: One Rule: Item 2 Page: 8
Those drivers' ages 10 turning 14 with no driving experience will be in the Junior 125cc class
Change to:
Those drivers' ages 10 thru 16 with no driving experience will be in the Junior 125cc class
Section: Two Rule: Item 8 Page: 10
All cars entering the track for all race events must have the appropriate Race Receiver.
Change to:
All cars entering the track for all race events must have the appropriate working Race Receiver. If not equipped with one, car will not be scored and sent to infield.
Section: Five Rule:14 Page: 17
All features re-starts after the first completed and recorded green flag lap, will be lined up by the flagman's signal, and will be double file, up to lap 10.
Add:
If caution occurs on the same lap within (more than 2) the first 10 laps, the restart will go single file.
Section: Eight Rule: 14 Page: 24
Cars using a tail fuel tank must have an acceptable, reinforced, bumper installation or a fuel bladder
Add::
Rear bumper hoop recommended
Section: Nine Rule: 1(a) Page: 27
All cars finishing a race
Change to:
"Top 5 Finishing cars"
---
This website and Airport Speedway Facebook page are the only official sites to be used for information purposes. Please also be aware that there are other Facebook groups/sites are using our name in any combination is unauthorized, because of this we take no responsibility nor are we associated with these unauthorized sites.
If you are identified making written comments detrimental to the Club or track on the internet, i.e. Social Media, you will be subject to disciplinary action.
---
---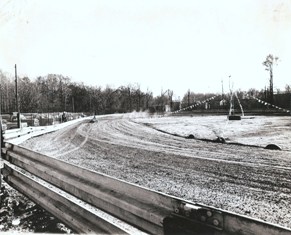 Remember When Slideshow
Remember When Part II Slideshow