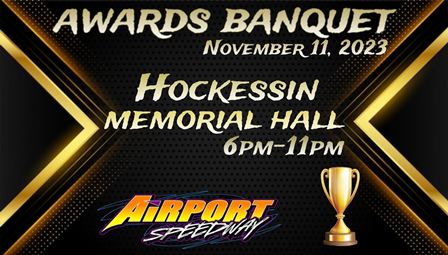 November 11, 2023 BMMRC Awards Banquet Details

• Dinner • Awards • Music •

6pm - 11pm

Hockessin Memorial Hall • Hockessin, DE

Tickets will be available for purchase and to reserve a table on Saturdays at the track, Battle at the Bullring

Each ticket price includes, appetizers, dinner, coffee, tea or soda.

See Sandy Stumpf-Rineer at the track or to purchase tickets or to reserve a table (must be at least 8 or 10 max) contact: Sandy Stumpf-Rineer (717) 786-3946 or mail request/check to: Sandy Stumpf-Rineer 598 Cinder Rd. New Providence, PA

17560

Adults - $40

Children - $20 (9 – 5 Years old)

Children – Free (4 & under)

Deadline to purchase tickets November 4, 2023

Upcoming Event Schedule
Sat         30  Point Race Members Memorial 
 Save the date - PUMPKIN RACE 
▪︎Trick-or-treating




▪︎Costume Contest (2 age groups)




▪︎0-6 years old




▪︎7-13 years old




▪︎Live coverage through 

Dirt2Media

 




▪︎Championship Night (final points race)
▪  Drivers please remember to bring candy for trick or treating 




 Please note, we are starting 1 hour earlier to accommodate the Halloween festivities 

October 11, 2023 BMMRC Club Meeting and Elections - Wilmington Manor Fire Station 32, New Castle, De @ 7:00 PM 
Absentee ballots will be accepted from those who have stated a reasonable request for one, in writing, from the Club Secretary prior to the election meeting. 
Reasonable request may include serious illness, work schedule, death in family, travel schedule, etc. 
No absentee ballots may be requested by/for anyone at the October meeting. 
Nominees are: 
President: 
Andrew Capparell 
Vice President: 
Dawn Mercado 
Board of Directors: (Vote for 3) 
Angelo Mercado 
Donald Pfahler 
Matt Pfahler 
Andrew Young
November 
Fri            3 Open Race	AC Racing Products  Friday Night Showdown
We are thrilled to announce the AC Racing Products Showdown will be returning on Friday, November 3rd to kickoff the 
2023 Battle At The Bullring weekend! We are still looking for headline sponsors for Saturday, November 4th. 
Please contact Ava Bellinger if you are interested in sponsoring.

Sat           4 Open Show 600cc Wingless 100 Laps Battle at the Bullring 
Sun          5 Rain Date 
* SCHEDULE / EVENTS / TIMES SUBJECT TO CHANGE
Racer's Auxiliary
Our Racer's Auxiliary has been hard at work planning special nights at Airport! Please mark these dates in your calendar! Proceeds from each event go to the driver's points fund.
Membership Process

Just click on the MEMBERSHIP button at the left and follow instruction to fill in online and print it out. You will, however, still need to sign the form .

If you are under the age of 18, you must send in a copy of your birth certificate of drivers license as proof of age. This is a BMMRC

requirement per the BMMRC By-Laws Racing Rules and Regulations.

Reminder to Individual Lifetime Members: If you are planning on being a driver, you must pay the driver upgrade fee of $10.00

Points/Work Detail Fee

Drivers, or an alternate, must perform work of at least ten (10) cumulative hours prior to the first scheduled season Point Race in order to be eligible for any awarded points. Work detail credit goes to the driver. The driver has the option of performing the work or paying a fee of $100 in lieu of work prior to the first scheduled season Point Race.

Driver's - don't forget to sign the Work Detail sheet to get credit towards Points

Car Registration Fee

Payable with annual dues. This fee is for Club car registration and must be paid by each Club member registering a car.

All registered cars must have been inspected and competed or attempted to compete in at least three (3) point races during the registration year in order to retain its registered Club number for the following year.

Pit Spots

Pit spots will be taken starting January 1st. A car owner/driver may prepay the yearly pit space fee in order to

maintain the same pit space from year to year. The assigned car must have been signed in to at least 50%

of the scheduled previous year's races. Questions or availability contact Barbara Sparks
Track Promoter
We at Airport Speedway are pleased to announce that Ava Bellinger is officially our Track Promoter. Ava will be looking for sponsors for our
2023 special races, if you would like to add your name or business as she promotes these races - please reach out to Ava at the email address:
airportpromoter@yahoo.com

 
2023 Race Schedule Revised is now online

2023 BMMRC Rules and Regulations

                   
---
---
This website and Airport Speedway Facebook page are the only official sites to be used for information purposes. Please also be aware that there are other Facebook groups/sites are using our name in any combination is unauthorized, because of this we take no responsibility nor are we associated with these unauthorized sites.
If you are identified making written comments detrimental to the Club or track on the internet, i.e. Social Media, you will be subject to disciplinary action.
---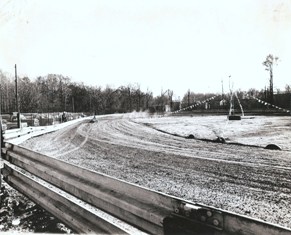 Remember When Slideshow
Remember When Part II Slideshow