---
---
December 4, 2019 Board meeting @ Flying J - 7pm - 2020 Rules Changes will be voted on
December 11, 2019 Club meeting @ Flying J - 7:30pm
---
2019 Awards Banquet November 9, 2019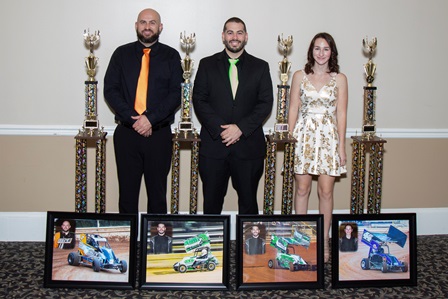 2019 Class Champions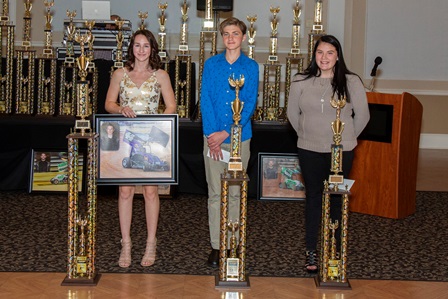 125cc Junior Class
Olivia Haworth - Champion
2nd - Hadyn Mulherin, 3rd - Paige Hornberger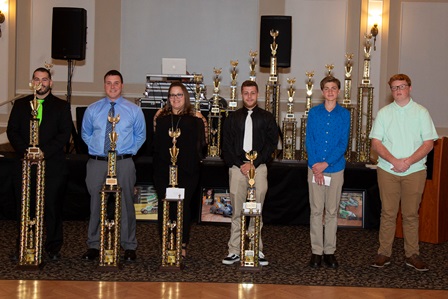 250 Sportsman Class
Cameron Bellinger - Champion
2nd Andrew (aka Chris) Locuson, 3rd Ava Bellinger, 5th Matt Andrews
8th Liam (Hadyn) Mulherin, 9th Devon Dvorak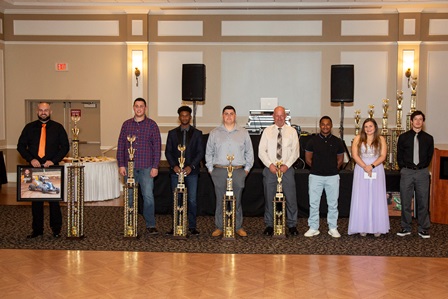 600cc Class
Jimmy Glenn - Champion
2nd Chris Fenimore, 3rd Lavar Scott, 4th Nate Smith, 5th Rob Miles
6th Wayne Scott, 7th Amanda Onimus, 9th Tyler Tank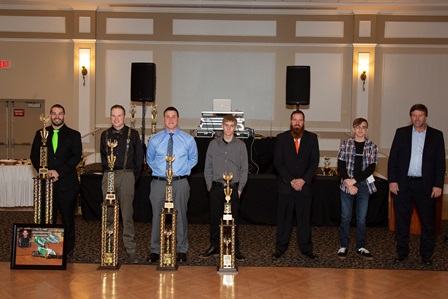 270 Open Class
Cameron Bellinger - Champion
2nd Tommy Rinck, 3rd Chris Locuson, 5th Dale Wagner
6th Jonathan John, 7th Connor Sheffield, 8th Ron Ford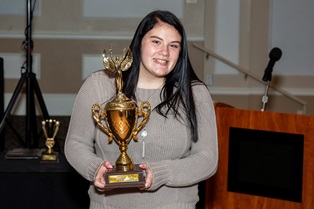 125cc Rookie of the Year - Paige Hornberger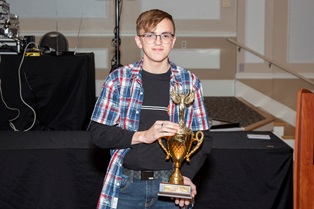 270 Open Rookie of the Year - Connor Sheffield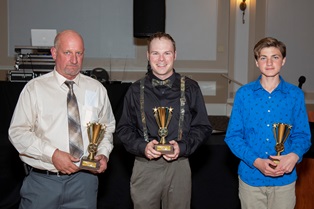 Most Improved -
600cc Rob Miles, 270 Tommy Rinck, 125cc Haydn Mulherin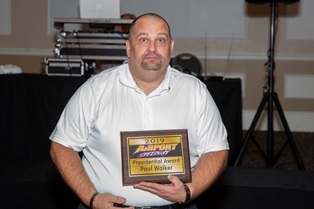 President Award - Paul Walker
---
Last but certainly not least we have our 2019 600 Champion, Jimmy Glenn.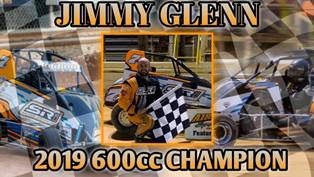 Do you have a nickname?
"Don't really have one, but it would be cool to earn one."
How old are you?
"Thirty-one and has been racing for twenty-four years"
Why did you choose the number you race?
"My dad gave us our numbers, but I usually say lucky number 7. I also started racing when I was 7 years old."
How and why did you get into racing?
"Jay Butler (quarter midget builder) lived down the street from where I grew up, my dad stopped by one day and it went from there. We had a quarter midget built that winter."
How many races did you win this year?
"12 (I think)."
Who Sponsors you?
"Performance Elevator, Seros Racing Incorporated, and Mercado-Bellinger Racing"
What are your plans for next season?
"We are looking to travel to hit more of the big races in the 600 and I'm looking forward on getting back into the midget."
What are your goals for your racing career?
"I really don't have any goals for racing. Just always progress and do better than the previous time out and when it is your night it will be your night."
What are your biggest accomplishments thus far?
"Winning my first (official) 600 championship this year!"
What is your best memory in racing?
"First time in a midget, we went to gold crown nationals at Tricity Speedway. It was in practice, the last run of the night, I flipped the car and came off the track smiling ear to ear and was like well can't do that anymore. We fixed the car and qualified both nights and missed the third night by one spot."
Thank you, Jimmy, for answering our questions so we can get to know the man behind the helmet who visited victory lane quite a bit this year. Congratulations on your championship and we look forward to seeing what next year has in store for you.
Cameron Bellinger won not one championship but two this year. He pulled double duty running a Sportsman motor and was able to win the Sportsman and 270cc Championship.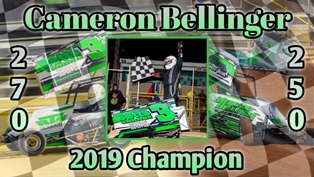 Do you have a nickname?
"Wildman"
How old are you?
"Twenty-eight"
Why did you choose the number you race?
"I'm number 6 because of my favorite video game growing up, Gran Turismo. The fastest most bada$$ crazy car on the game was a red Suzuki Escudo-Pikes Peak Edition. It was done up like a rally car and was number 6. I loved he car and it symbolized what I enjoyed so that was reason enough for me. I'm number 3 racing for my In-Laws (Dawn and Angelo Mercado), because number 3 is Angelo's long time, well known, extremely successful number and I'm lucky to add to his legacy"
How and why did you get into racing?
"My dad raced old school modifieds a few times waaay back in the day in upstate New York. Then he got into drag racing a little, so he has always had the racing bug. As the son of a mechanic, I had always enjoyed cars and motorsports, but when we moved into my childhood home in 1998, our neighbor across the street had a 600. I was very interested in it and my dad convinced me to go outside and talk to him and ask to help. His name was Bill Jackson, a well-known and successful racer at Airport Speedway. He taught me how to change the right rear tire on his car and it all snowballed from there. We started going to the track to watch and cheer him on and I would help him every night of the week and during intermission on Saturday nights. Before the transponder system, my dad and I used to record Bill's lap times with our stopwatch along with Angelo Mercado, Scotty Smith, Dave Betts, and Eric Brobst and the other O.G. fast Airport legacy builders. I was hooked. My dad soon after took a job where the owner, Tim Moore, had a URC sprint car. Upon getting to know us and our story, he convinced my dad to buy a car for the newly unveiled 250cc junior class at Middleford Speedway. Tim and my dad searched and traveled looking at racecars and finally settled on a 1996 Stallard. My dad and I re-did the car together as we both learned all the ins and outs of the car. I finally hit the track for the first time in 2003 at Middleford Speedway. I was 12 years old. The car always pushed like a dump truck and was plagued with engine problems. I raced about six times that year and blew up every time. At the end of the year for the Middleford Nationals, a recent acquaintance of ours was there to race. We met him when we looked at his racecar for sale while we were searching for our car, but it was above our budget. His name was George Savaren. He pitted next to us and saw our struggles on the track, so he offered to help. He looked over our car and changed our front torsion bars with his own parts. The ones we had were way too stiff. Next time I went on the tack, I spun out in the first corner because the car finally turned for the first time ever! After making a few of my first real laps, I blew up again. Our night came to an end, but George had a good idea what our problem was. He offered to help us with that as well which we were very please to accept and happy with his help already. We brought our engine to his garage the next week and he tested the engine for air leaks, and it turned out we only had one gasket on our reed cage assembly and that's why we were blowing up. We ended up becoming very good friends and learned a lot from one another. Fast forward to 2004 off season, we bought George's 2004 Stallard and decided to race at Airport Speedway because I was finally old enough to compete there. I spent most of the 2005 season learning and taking my lumps. The 250-stock division at Airport was extremely competitive with large car counts and B mains every week. We learned as much as we could improving every week. Finally, in we won our first heat race and feature in the same night! What an amazing night that locked us in for the rest of our lives! And that is my long story how I started racing"
How many races did you win this year?
"twenty-one wins this year!"
Who Sponsors you?
"Quickel Deer Farms and Betts Garage"
What are your plans for next season?
"We are not 100 % sure yet, we have a few ideas, but we've mainly just been enjoying the down time"
What are your goals for your racing career?
"At this point in my career, my goals are to just have a good time with my family and make great memories. Also, to use racing as a fun tool to raise my son, Carson, with good hardworking morals so he can mature into a good man like my family did with me. If I had to answer a "pipe-dream" goal, it would be to race a USAC Midget and/or a 360 or 410-winged sprint car. I think I would do better in a sprint car but think the midget would be more fun."
What are your biggest accomplishments thus far?
"Winning the Lanco Labor Day and Memorial Day shootouts. Winning the Lanco Sportsman Championship in 2017, Winning in the 600 at Lanco, and now winning the Airport 250 and 270 championships in the same year together with eh same car back to back!
What is your best memory in racing?
Winning my first ever 270 race for Angelo Mercado in 2010 after his major heart attack"
Thank you, Cameron, for taking the time to answer some questions so we can get to know our champion. You sure took us down memory lane with a few of our very own famous names that came through our gates. We hope to see you back next year and Congratulations on your Championships.
For those that want to get into racing and maybe shy to ask questions or try to find a way into the racing world. I think Cameron is a great example of not being scared to take a risk by walking up to a racer whether it be you neighbor or while your strolling through the pits, ask questions, get involved… you never know you may just be the next CHAMPION.
Next up we have our 2019 125 class champion, Olivia Haworth.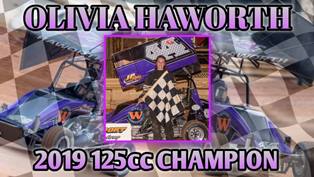 Do you have a nickname?
"Livvy"
How old are you?
"Fifteen"
Why did you choose the number you race?
"It was the number that came on the car. I consider it pretty lucky now and it just has a nice ring to it"
How and why did you get into racing?
"I first got into racing after watching the Daytona 500 with my dad in 2015. He told me about Danica Patrick and how women can race cars too. I was immediately intrigued. I then attended an arrive and drive at a quarter midget track in March and became hooked on racing. I begged my dad for days to buy me a car and he finally gave in about a month later!"
How many races did you win this year?
"12 in 2019 and I have 17 total career wins!"
Who Sponsors you?
"As of now I am currently funded by my mom and dad!"
What are your plans for next season?
"My plans for the 2020 season are to run my 270 at Airport Speedway and a couple other tracks nearby"
What are your goals for your racing career?
"My main goal is to get into a 410 sprint car or even venture out into stock car racing!"
What are your biggest accomplishments thus far?
"My biggest accomplishment would definitely have to be winning the 125 championship this year!"
What is your best memory in racing?
"My best racing memory was going to Daytona for a quarter midget race. It was a fun road trip and race. I even got to walk on the track and go in the infield of the Daytona International Speedway."
Is there anything else you would like to add?
"I would like to give a HUGE thank you to my parents, the track crew/staff and everyone that has been supporting/cheering me on. I couldn't have don't any of this without the help of all of you and I'm very thankful for everything. I am hopeful for an amazing 2020 race season and wish everyone a happy and safe off season!"
Thank you, Olivia, for taking the time to let us get to know you and how you got your start in this awesome sport. You are proof that women can make it in the racing world. She is checking off her goals one by one at a young age. Congratulations on your championship and we look forward to seeing you excel in the next step of your racing journey.
---
---
Effective November 1, 2019 all positions will be open for the 2020 Saturday Night Race Season. Typically the season starts in April and ends the first weekend in October with the exception of being closed on holiday weekends, Memorial Day, July 4th, and Labor Day.
Anyone interested in filling any position even if you worked in 2019, and would like to return contact: Ron Ford
(302) 218 - 2890
---
---
---

Effective Immediately: From our Safety Crew - New Safety requirement for all safety belts: Safety belts, lap, shoulder, and anti-submarine belts must not be older than 2 years.
---
---
Rained Out
Airport Speedway uses RainedOut and delivers alerts when needed directly to your mobile phone as SMS text messages or email. If you would like to be notified by SMS or email on events or cancellations, click Rained Out and follow the instructions to sign up.
---
Membership Application Form
Memberships will be taken starting January 1st. Just click on the MEMBERSHIP button at the left and 
follow instructions. You will be able to fill out the form on your computer and print it out.
You will, however, still need to sign the form and send it to the Club P.O. Box along
Any membership renewal or fee not paid by April 15th will be charged an additional $5.00 late fee.
If you are under the age of 18, you must send in a copy of your birth certificate or 
driver's license as proof of age.

 This is a BMMRC requirement per the BMMRC By-Laws 

Racing Rules and Regulations.
Reminder to Individual Lifetime Members: If you are planning on being a driver, you must pay the drivers upgrade fee of $10.00.
Payable with annual dues.

  

This fee is for Club car registration and must be paid by each Club member registering a car.

 
All registered cars must have been inspected and competed or attempted to compete in at least three (3) point races during the registration year in order to retain its registered Club number for the following year.
All car number re-registrations must be completed before April 1st to assure retention 

of a previously registered 
Drivers, or an alternate, must perform work of at least ten (10) cumulative hours prior to the first scheduled season Point Race
in order to be eligible for any awarded points. Work detail credit goes to the driver. The driver has the option of performing
the work or paying a fee of $200 in lieu of work prior to the first scheduled season Point Race.
Pit spots will be taken starting January 1st. A car owner/driver may prepay the yearly pit space fee in order to 
maintain the same pit space

 from year to year.

  

The assigned car must have been signed in to at least 50% 
of the scheduled previous year's races and have fee paid prior to April 1st. Questions or availability contact Barbara Sparks
Anyone with a push vehicle i.e. 4 wheeler, golf cart at the Speedway must pay a fee of $25.00 yearly.  A sticker will be placed on the push vehicle
as proof of being registered.  See Sandy at sign-in booth or any Safety inspector at the track to fill the form out and receive the sticker.
Must be at least 16 years old to drive them in the pits.
If you are a visiting driver planning on racing at Airport Speedway this season, you must fill out the form for the 1099-Misc.
These are for cars not registered with B.M.M.R.C .  All drivers are to use the visiting driver form if you are not the car owner, 
drivers that have a ride with a car owner use the 1099 Car Owner form ALSO.  Please complete the on-line form and print it out, 
then take the form to the Sign-in window the first time you plan on racing. 
If you are under the age of 18, you must bring a copy of your birth certificate or drivers license as proof of age.  This is a
BMMRC requirement per the BMMRC By-Laws Racing Rules and Regulations.
---
---
This website and Airport Speedway Facebook page are the only official sites to be used for information purposes. Please also be aware that there are other Facebook groups/sites are using our name in any combination is unauthorized, because of this we take no responsibility nor are we associated with these unauthorized sites.
If you are identified making written comments detrimental to the Club or track on the internet, i.e. Social Media, you will be subject to disciplinary action.
---
---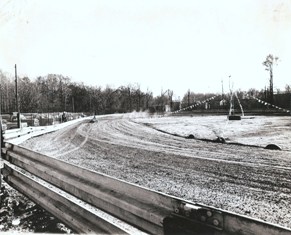 Remember When Slideshow
Remember When Part II Slideshow