Airport Speedway is a 1/8 mile, semi-banked clay oval auto race track, located in the heart of New Castle County, Delaware, dedicated specifically to micro-sprint racing.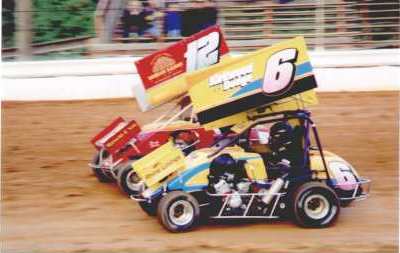 Four classes of micro-sprints are run each week at Airport Speedway. These Classes are grouped by engine size and weight. The allowed engine sizes are 2-cycle 125cc, 2-cycle 250cc liquid cooled modified, 250cc liquid cooled stock and 600cc multi-cylinder engines. Heat races are run in each engine class qualifying cars to compete in the 25-lap Features or Consolation events.
All racing at Airport Speedway is sanctioned by the Blackbird Micro Midget Racing Club, Inc. and is responsible for all Rules and Regulations of their posted race events.
Drivers of a micro midget must be at least 10 years of age . Those drivers ages 10 and 11 must have had at least two (2) years driving experience in quarter midgets or organized go-karts. Those ages 10 thru 14 turning 15 during the current race season must drive in the 125cc Junior Class.
Those ages 14 and 15, must have had at least two (2) years driving experience in quarter midgets or organized go-karts. Drivers ages 14 and 15, with no prior driving experience, must drive in the 125cc Junior Class until age 16. Minimum driver age for the 600cc Class must be at least 16 unless having prior driving experience of at least two (2) years (51% of races equals 1 year) in micro sprints.
Except for holiday weekends, racing is scheduled for each Saturday night from early April through mid-October beginning at 6:00 PM. Grandstand admission is $8 per person for adults, (seniors - $6) $3 per person for ages 6-12, and free for children under 6 years old. Parking is free.
---
THE BLACKBIRD MICRO MIDGET RACING CLUB, INC (BMMRC)
Races were first held in the late 1950s on a crude 1/10-mile clay surface track on the John Outten property in Blackbird, Delaware, which was later to become known as the Blackbird Speedway. There were only six or seven cars.
The organization grew and incorporated in 1962 to become the Blackbird Micro Midget Racing Club, Inc. It operated from the Outten site until 1978 when the track closed due to the sale of the property. The following year, the Club held a few races at Pacer Park, near Blackbird. In 1980, the Club raced at the Wildcat Recreational Track in Dover, Delaware. That same year, the Club obtained the rights from New Castle County to build a racing facility in the Greater Wilmington Airport Corporate Commons complex in New Castle. Airport Speedway, as it is known today, became fully operational in 1981.
In 1989, the Speedway was completely renovated, making way for an entirely new racing surface and increasing the track size to 1/8-mile. New grandstands were erected providing more comfortable seating for over 1,500 spectators. The spectator parking areas and pit areas were enlarged, the track lighting system was improved and a new scoring tower was built. A separate, fully air-conditioned VIP Lounge and a specially-constructed grandstand area for folding chairs and wheelchairs for the handicapped was added later.
In 2002, the BMMRC celebrated its 40th continuous year as an incorporated Club providing competitive open-wheel/open-cockpit auto racing as family entertainment at reasonable prices.
For more than 40 years, the Airport Speedway and the Blackbird Micro Midget Racing Club have enjoyed continuous growth each year with over 100 registered driver/members from Delaware, Pennsylvania, New Jersey and Maryland.
Airport Speedway is conveniently located between I-95 and US Route 13, just off Delaware 141 in the New Castle Corporate Commons, New Castle, Delaware. For illustrated directions to the track, please refer to our map.